BREMEN TOWNSHIP - The Four C Notes Event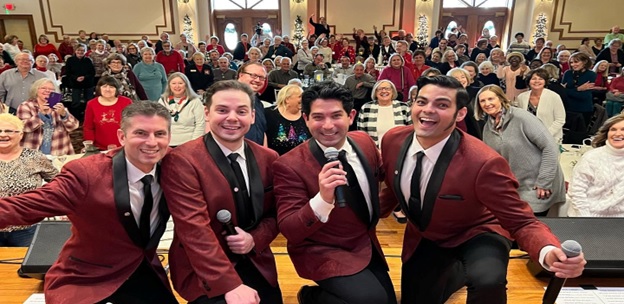 TRAVEL WITH US ON SEPTEMBER 28, 2023 TO THE JACOB HENRY MANSION IN JOLIET TO SEE THE FOUR C NOTES PERFORM the Hits of FRANKIE VALLI AND THE FOUR SEASONS
Created by John Michael Coppola best known for his appearance in Chicago's long-running production of the Broadway smash hit Jersey Boys, THE FOUR C NOTES are the Midwest's ONLY tribute dedicated to recreating the music of Frankie Valli and The Four Seasons! The tribute features all of your favorite hits, including:
"Sherry", "Big Girls Don't Cry", "Walk Like A Man", "Workin' My Way Back To You, (Babe)", "Can't Take My Eyes Off Of You", "Let's Hang On" and many, many, more…
A brief self-guided tour of the mansion after lunch is also available for those who wish.
We will leave the Senior Center at 10:30a.m. and return at about 3:00p.m. The cost is $65.00 which includes lunch and transportation.  Due no later than SEPTEMBER 21st. No Refund after this date.
Lunch menu: Pasta Trio - Cheese Manicotti, Fettuccini Alfredo & Spaghetti & Meatballs Served with Garlic Bread
Optional Upgraded Dessert ($4 per guest): Cannoli Cake